Free Distance Learning Resources
Fun Activities and Experiments for At-Home Learning

The Child's World remains dedicated to educators during these challenging times. To support remote learning, we've compiled a collection of our favorite activities and experiments in the hopes these resources will help keep your students engaged and learning. Please feel free to share these resources with educators, parents, and community members who would find the content useful.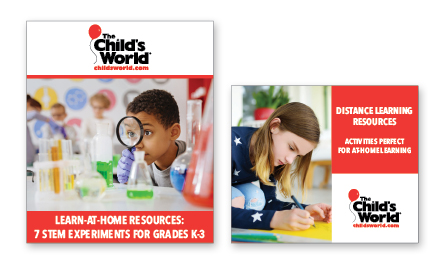 Suggested Websites

Explore beyond the book with Research Assistant from The Child's World. Our Research Assistant page contains many suggested learning resource sites offering additional information relevant to our amazing nonfiction books. Discover our featured links or the most popular ones today.




Note to Parents, Teachers, and Librarians: We routinely verify our Web links to make sure they are safe and active sites. So encourage your readers to check them out!